Membership and Donations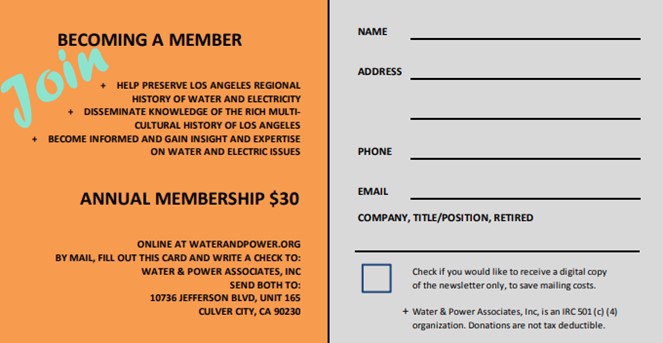 As a member of Water and Power Associates you play a major role in helping:
◆ Preserve the Los Angeles regional history of water and electricity


◆ Disseminate knowledge of the rich multi-cultural history of Los Angeles


◆ Become informed and gain insight and expertise on water and electrical issues
Members receive the quarterly newsletter and updates about water and energy issues facing Los Angeles and California. At the annual membership meeting members elect one-third of the Board each year to oversee the Associates activities for three year terms.
Your support enables us to continue educating decision makers and the public about such important issues as the California's water resources and energy regulation. Also, in providing future generations with a Virtual Museum that shows the history of Los Angeles and Southern California, with an emphasis on how Water and Electricity contributed to the area's growth and development.
INDIVIDUAL ANNUAL MEMBERSHIP:  $30
Click the PayPal button below:


or
Complete the following form and mail with check* payable to Water and Power Associates, Inc. to:
Water & Power Associates, Inc.
10736 Jefferson Blvd. Unit 165
Culver City, CA. 90230
ANNUAL MEMBERSHIP RENEWAL / NEW MEMBER APPLICATION (Printer Friendly Form)

January 1, 2023 - December 31, 2023

_____Number of Membership Renewals @ $30.00 Each*

_____Number of New Memberships @ $30.00 Each*

Name(s): ________________________________

Address: ________________________________

________________________________

Phone: _______________________

Fax: _________________________

E-Mail: ______________________


* Additional contributions are always welcomed and appreciated.
Help Support Our Cause
Click the Donate button to make a donation via PayPal to the Water and Power Associates, Inc. and support our ongoing endeavors researching, documenting and sharing information about the critical water and energy issues, and its history in the development of Southern California.
Have Something Historical To Share?  We Want To Know!
Do you have items to share? We would welcome photos of old buildings, early city views, correspondence, newspapers, early sports teams, and events that pertain to the History of Water and Electricity and/or the History of Los Angeles and Southern California in general. If you would like to retain the originals, we would be happy to scan the items and return them to you.

Take a look in your attics, and think of what you can help us collect for future generations to enjoy! If interested, please contact us at: webmaster@waterandpower.org.
Note: Water and Power Associates, Inc. is a 501 (c) 4 organization, and donations are deductible to the extent permitted by law.